"Boredom is self, stuffed with the self. "
Walker Percy
After you've thought on that one, read on.
Today's the big birthday party and I spent my morning overseeing parking with the Boy Scouts for our town's
Annual Christmas Tour of Homes
. Vaughan and I were assigned
Jack Billingham's
home. Pretty cool! It was neat to visit with Jack and his wife, Jolene on their front porch, I speak as if we're best friends;but I will say they are some of the nicest people I've ever met.
One of the things about living here in Florida is the amount of athletes that live here.
Larry Csonka
lives2 towns away and we've seen him at the local Dustin's a few times, then there's the annual football game against Ken Griffey Jr's son.
Back to today -what impressed me most about the Billingham home was it's simplicity. Really not an extravagant home, but a really extraordinary and unique one; color inspired by the family's
dishes
, which for the record are the same as mine and a real practical layout. The living, dinning and kitchen we all open with no formal living or dinning in the whole house. The children's loft room was the only room upstairs with a bathroom and med size walk-in closet as a toy storage and play area. The laundry room was off the kitchen and was a sort of butler's pantry as well, very "normal" in size. The master bedroom was not any larger than my own, but the shower rocked! It was large and had plants in it as well as a center hanging
rain shower head
. The guest room was average size, or smaller compared to some new homes, and there was no pool. Jack's study was as big or small as my own seing room and was the highlight of the house. One wall was lined with old ball photos of him, his family and newpaper articles. Pete Rose and Johhny Bench were the 2 that stood out to me. The neatest bit of info I learned was related to 2 canvas' that were hand-painted. They each had a simple Christmas trees painted on them. Anyway Jolene had seen them in a gallery for $600 and didn't want to pay it, so she painted her own!
It was a neat glimpse into the average life of a retired professional athlete.
So a home tour with the intent on inspiring us all to decorate for the holidays has in fact inspired me to follow sports again; viewing 2 World Series trophies will do that to a girl!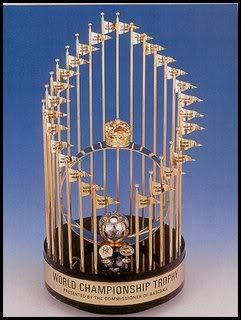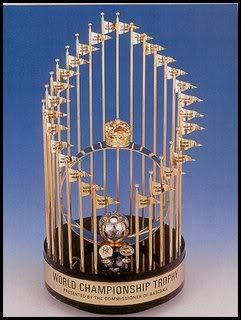 Cold Hands
Warm Heart
~Michelle