My original post for today was going to be about the wonderful Beth Moore simulcast I attended on Saturday but a recent e-mail kind of changed my thoughts.
A close friend of ours died this past Saturday. We just got news of it today via e-mail from his wife. Vince was 38 years old and was Steve's mentor in teaching. So today I dedicate this blog to Vince:
Nothing like the sweet sound of the disc hitting the basket
Our favorite snowman
No one could lay on in the basket like you.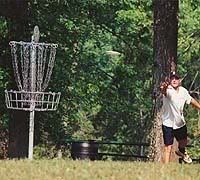 We'll miss your game face Vince, here's a little reminder.